Arnona Vs Baka'a
two popular residential neighborhoods in Jerusalem among Anglo olim
Many Anglos who are in the process of making Aliyah ask about the difference between the two popular southern neighborhoods Baka'a and Arnona. In this essay I'll try and answer this question and I encourage you to reach out for further questions.
First off, it's important to note that Baka'a technically is bordered on the east by Emek Refaim St., the popular café and shopping area which is part of the German Colony neighborhood, and on the west by Derech Hevron St, and on the south by the Talpiyot industrial area.
Baka'a has a very large number of pre-schools and schools, a community center (AKA Matnas מתנ"ס), playgrounds, beautiful public parks and a plethora of synagogues of all sorts. The community, like many neighborhoods in Jerusalem, is mixed with Anglos and non-Anglos, religious and secular, newly arrived olim and old-time Jerusalemites. On Emek Refaim St. you'll find a large number of restaurants, cafes and eateries, as well as other shops. Children are often members of the Tzofim (Israel Scouts) or Bnei Akiva youth movements to name but a few afterschool favorites, as well as HaPoel's junior basketball teams which hold practices in various locations in the 'hood.
Public buses are very useful for children and for those who do not drive. Egged buses run up and down Emek Refaim and one can use them to virtually get anywhere in the city, as well as from the other main transportation artery on Derech Hevron. In the future, the Light Rail's Blue and Green lines will run by Baka'a as well, connecting to the other Light Rail's lines.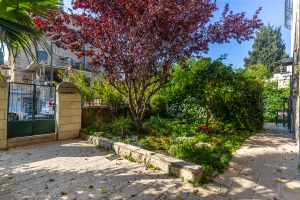 Baka'a runs the gamut as far as types of housing, from luxurious housing to more affordable living styles. Some of the properties are privately owned, while a few streets are considered "church land", and buying an apartment there is considered a little more of a challenge. Some very nice brand-new residential projects have gone up in recent years, as well as TAMA-38 projects which are governmental initiatives aimed to strengthen structures and ensure that they meet earthquake resistance standards and to promote urban renewal processes by rejuvenating old buildings in various cities, including Jerusalem. In most cases, tenants wind up improving their property by gaining added space (an additional room), a balcony, an elevator in the building and thus having their property's value increase.
Some apartments in baka'a are old and have never been significantly renovated while others are just as old but have been excellently renovated and maintained their unique style throughout the years. The prices, of course, will be quite different.
An average 3 room rental apt in Baka'a, and mind you there is a huge range, is anywhere between 6,000 and 9,000 shekels per month, depending on exact location, size, year built and so on. The sales price for similar apartments runs between 30K and 40K shekels per sqm.
Arnona, located west of Baka'a and up the hill, which blends in with the Talpiyot neighborhood, is quite old. Its origins are in the 1930s and was once on the outskirts of Jerusalem, serving as a vacation spot for people needing some time away from the hustle and bustle of Jerusalem, as it's on the cusp of the Judean Desert. Arnona has an array of living styles, ranging from luxurious to modest. Public parks and playgrounds are abundant, and the famous Sherover Promenade is a mile long favorite Jerusalem landmark, where excellent picnics can be enjoyed during most of the year, as well as exercising, and so on. Arnona does not lack in the education department either, hosting various types of educational settings, cultural opportunities a brand new pub and so on.
As it's a bit further away from Baka'a, prices of real estate tend to be a little bit lower in comparison – an average 3 room rental will run between 4,500 to 6,500 shekels per month. An average price per sqm will run anywhere between 25K and 32K shekels per sqm, depending of course on location, size, condition of apartments and amenities included.
While you might ultimately choose one of these neighborhoods to live in, I can almost guarantee that you'll find yourself walking or driving to the other neighborhood every week for various and different reasons- you'll either be visiting family or friends in the other neighborhood, will go shopping, drop off kids at school, meet someone for coffee or your preferred synagogue might happen to be in the other. They are very close to one another, and not all that different.
In any case, and wherever you choose to live, we're happy you're here.
I'm happy you're here. Welcome home.
Karni